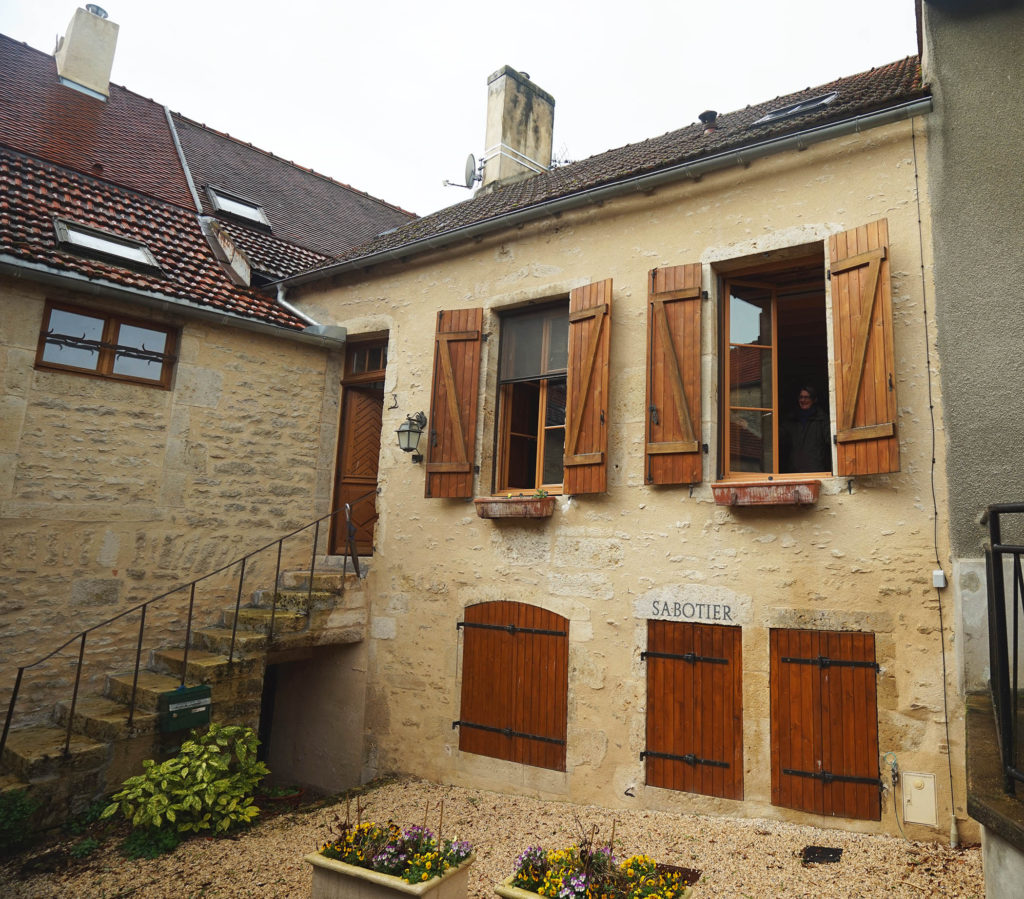 A bit of madness is key
To give us new colors to see
Who knows where it will lead us?
And that's why they need us…
Here's to the ones who dream.
               — Mia, in "La La Land"
So here is the next adventure, and it's a pretty big one.
On March 22, I quit my job after 36 years with one company, the same company that Paula left three years ago to pursue freelance editing. It's a company that has been incredibly good to us and has given us endless opportunities. But it was time to move on to the next thing.
The only problem: Paula and I did not know what the next thing was going to be.
So we did what we do best: we left the country. The morning after my last day, on March 23, Paula and I flew to France to spend 12 days of thinking, about the what, and the where.
We spent most of that time – eleven days – in the medieval Burgundy village of Flavigny-sur-Ozerain, a beautiful, ancient town with a rich history that is as old as Caesar's siege of Alessia in 51 BC, and as recent as the three-month film shoot of the movie Chocolat, with Juliet Binoche and Johnny Depp, that took over the town. It is a beautiful, stunningly well-preserved village, with one épicerie, one blacksmith, three restaurants, and 350 full-time residents.
Come the end of summer, make that 352.
We bought a house in Flavigny, and we'll be spending the next chapter of our life there. If everything goes according to plan, we expect we'll be there by August or September. (We may have to rent it for a while to recoup expenses, but hopefully not for long.) From there, all of Europe, and much of the world, is one non-stop flight away from Paris. We can get to the City of Light in an hour on the TGV high-speed train. Much of the world will literally be at our doorstep.
To some of our American friends, it seems a little crazy. To us, it makes perfect sense. Our passion is travel. We love adventure. We love to photograph and write about the places we go, and share our experiences with our friends, and with those who share our passion for learning about other places and other people. We love nature. And we love France.
To live on a hilltop village in the Burgundy hills, in a country whose lifestyle we have always embraced, a day-trip away from a world city that is our favorite place on earth, and with Europe at our doorstep, is beyond a dream. The thriving city of Dijon, with its amazing fresh market and world-class health facilities, is 45 minutes south. So too is Beaune, gateway to the Burgundy vineyards that rank among the finest in the world.
Our hilltop haven seems like a world out of time. Some of the 15th century walls have 1st century Roman columns embedded in them to hold up the structures.
But nine minutes away, down in the valley town of Venarey, there's a Super U, France's version of a Super Wal Mart, with vast, modern grocery isles, and a fully stocked liquor department with 10€ bottles of wine that will blow your doors off. And five minutes away, in Alise-Sainte-Reine, is a Michelin-starred restaurant.
So that's the plan. If you want to read about how it all unfolded in more detail, read on, good friends, and we will take you on the journey of how two weeks meant for rest and contemplation turned into a life-changing saga of learning how to buy a house in French, figuring out international money transfers, and researching the details of expatriation.
CHAPTER 1: YOUR FRIENDS CAN CHANGE YOUR LIFE
Since college, Paula has remained dear friends with her LSU roommate, Liz, and knows well Liz's entire clan of Irish siblings, including younger sister Mary Kate. As in Hurricane Mary Kate, an Irish redhead who is a force of nature and talks at the speed of light with her whole body. Years ago, Mary Kate and her husband Kirk bought a lovely home in Flavigny, a place they were introduced to by other good friends. Already, Mary Kate and Kirk are legend in Flavigny, admired by all.
For a lot of really good reasons, Mary Kate and Kirk consider this home a true gift, and in fact, call it Le Cadeau. At the wedding of Liz's daughter a couple of years ago, Mary Kate and Kirk told us about Le Cadeau, and invited us someday to visit. It was non-specific and non-committal, the kind of thing that nice people say at nice weddings.
And of course, we never forgot it.
So it was that when it came time to retreat from the world and think, Mary Kate and Kirk gifted us 11 days in their Cadeau. They even overlapped with us the first two days to show us the area and introduce us to the lovely, incredibly friendly people of the town. Then they left us to figure out our next thing, never knowing that they had already set in motion the events that would decide it.
CHAPTER 2: THERE'S NO HARM IN LOOKING . . . RIGHT?
Flavigny is a mix of weekenders from Paris, summer homeowners from all over Europe and the world, monks and seminarians, and elderly French pensioners. Sometimes in spring, after a long winter in a town where many widows and widowers are in their 90s, homes become available. In a town of only 350 people, then, it was unusual to see eight properties around the village for sale. It was a buyer's market.
It's always fun to just look around and imagine yourself living a different life. We do some version of it almost every vacation: "What would it be like to live in Tokyo . . . What would it be like to live in Paris. . . What would it be like to live in Fremantle…"
So we contacted Mélanie – the local real estate agent who used to work in Paris, visited Flavigny one weekend many years ago, and never left – and asked her if she'd show us around. She was happy to do it. For us, it was just a lark.
CHAPTER 3: LE COUP DE COEUR (THE BLOW TO THE HEART)
The French have a phrase: Le Coup de Coeur. It's that moment when you realize the stars have aligned, and you've found a place that vibrates in sync with your soul, at a particular moment in your life. Paula and I both felt it the moment we walked into Sabotier, a stone house that was once the site of the town's Sabotier, the craftsman who made the wooden shoes favored by the farmers surrounding the town.
The house was built in 1633 – just about a decade after the Pilgrims landed at Plymouth Rock (Europe is OLD, man). Sabotier has been completely and lovingly restored by John and Wil. John is a medical education publisher from Pittsburgh. Wil's an artist from Peru. They lived in Paris for years, then got relocated to Barcelona, necessitating them giving up their beloved haven in Flavigny.
And that's when we came along, and felt the Coup de Couer. The only question was: what to do about it?
CHAPTER 4: CAN THIS BE DONE?
It's one thing to have a romantic dream of living in France. But we're grown-ups, and we live in the real world. The next several days were filled with hours and hours of research, almost from dawn to dark. Finances, cost of living in France, visas, medical insurance, legal requirements, investments, insurance, utilities and advice from many quarters.
The head must help to guide the heart. But which has the final say?
The thing that number crunching never calculates is the inherent risk in NOT taking a leap, not taking a chance, not embracing adventure. Spreadsheets are conventional instruments, incapable of measuring the danger of conventional thinking, or the value of dreams.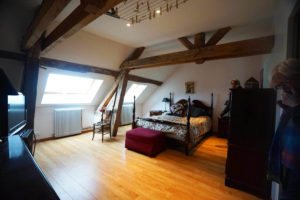 What we figured out is that we can build a modest but pretty amazing life in Flavigny right now, have easy, quick access to Paris, and pretty cheap airfares to half of the known world from Charles de Gaulle. We're healthy now. We're mobile now. We're energetic now. Will we be tomorrow? There are no guarantees. So what are we waiting for?
CHAPTER 5: NO LOOKING BACK
There are a million problems to solve in order to move our lives to France. Right now, we're on No. 5. But as Mark Watney, Matt Damon's character in The Martian, so eloquently described it: You solve one problem at a time, and then you move on to the next one. And if you solve enough problems, you get to go home.
We have decided to make Flavigny our home. We are not "retiring," in that we have a thousand plans: to write, to blog about travel, to photograph, to edit, to expand our audience, to teach, to engage the world. Whether that ever makes us any real money is beside the point. We're going to pursue our passion; to challenge ourselves to learn French in a deep and immersive way; to learn a new culture and embrace a way of living that is dramatically different from the American way, but only slightly different from the New Orleans way; to learn how to cook for real; to eat our cheese after the meal instead of before; to be strangers in a strange land. Some think we're visionary. Others think we're crazy. We're pretty sure they're both right.
This is where we'll document the full experience of our journey, on www.travelersforlife.com. We bought the URL two years ago, when the goal espoused in the name was aspirational. But now, we have a chance to make that dream a reality. And we intend to commit to it with all of the passion that comes when you are lucky enough in life to suffer a Coup de Coeur at the same moment as the love of your life does.
So it begins. We are going to follow our heart. We hope some of you will enjoy following our journey. A bit of madness is key.
James and Paula
April 2017